Infeções Nosocomiais. COVID-19: Amigo ou Inimigo?
Palavras-chave:
Controlo de Infeções, COVID-19, Infeção Hospitalar/prevenção e controlo
Resumo
Introdução: As infeções nosocomiais constituem um problema de saúde pública e trazem custos excessivos evitáveis associados aos internamentos hospitalares. Durante a pandemia da COVID-19, houve uma mudança nas políticas com foco em programas de prevenção e controlo de infeção.
Métodos: Postulamos que tal mudança pode ter um efeito indireto na ocorrência de Infeções nosocomiais. Realizámos um estudo retrospetivo com o objetivo de comparar as diferenças na prevalência de infeção hospitalar entre um período COVID-19 e um período não COVID-19, numa enfermaria de Medicina Interna de um hospital central de Lisboa, sem doentes com COVID-19. Foram incluídos 393 pacientes, sendo 192 do período não COVID-19 e 201 do período COVID-19.
Resultados: Encontramos uma redução estatisticamente significativa na ocorrência de infeções nosocomiais no período COVID-19 de 16,1% (n = 31) para 5,5% (n = 11) (p = 0,001; OR 0,301; IC 95%: 0,146-0,617). Também encontramos uma redução estatisticamente significativa no uso de antibióticos (n = 31; 16,1% vs n = 11; 5,5%; p = 0,001) e na ocorrência de infeção por organismos multirresistentes (n = 9; 29,0% vs n = 1; 9,1%; p = 0,009) no período COVID-19.
Conclusão: Estes resultados confirmam que, após a implementação de protocolos sistemáticos de controlo de infeção, houve uma redução nas infeções nosocomiais. Sugerimos uma investigação mais aprofundada para validar os dados obtidos e uma análise custo-benefício para esclarecer se a implementação universal das medidas de prevenção e controlo de infeção constituirão uma mais-valia para o tratamento dos doentes.
Downloads
Não há dados estatísticos.
Referências
Horan TC, Andrus M, Dudeck MA. CDC/NHSN surveillance definition of health care–associated infection and criteria for specific types of infections in the acute care setting. Am J Infect Control. 2008;36:309–32.
Cassini A, Plachouras D, Eckmanns T, Abu Sin M, Blank HP, Ducomble T, et al. Burden of Six Healthcare-Associated Infections on European Population Health: Estimating Incidence-Based Disability-Adjusted Life Years through a Population Prevalence-Based Modelling Study. PLoS Med. 2016;13:e1002150. doi: 10.1371/journal.pmed.1002150.
WHO's first global report on antibiotic resistance reveals serious, worldwi de threat to public health [Internet]. [cited 2020 Oct 10]. Available from: https://www.who.int/mediacentre/news/releases/2014/amr-report/en/
Tchouaket EN, Beogo I, Sia D, Kilpatrick K, Séguin C, Baillot A, et al. Protocol for a systematic review of economic analyses of nosocomial infection prevention and control interventions in OECD hospitals. BMJ Open. 2020;10:e037765. doi: 10.1136/bmjopen-2020-037765.
Zhu N, Zhang D, Wang W, Li X, Yang B, Song J, et al. A Novel Coro navirus from Patients with Pneumonia in China, 2019. N Engl J Med. 2020;382:727–33. doi: 10.1056/NEJMoa2001017.
Ge H, Wang X, Yuan X, Xiao G, Wang C, Deng T, et al. The epidemiology and clinical information about COVID-19. Eur J Clin Microbiol Infect Dis. 2020;39:1011–9. doi: 10.1007/s10096-020-03874-z.
Ahn DG, Shin HJ, Kim MH, Lee S, Kim HS, Myoung J, et al. Current Status of Epidemiology, Diagnosis, Therapeutics, and Vaccines for Novel Coronavirus Disease 2019 (COVID-19). J Microbiol Biotechnol. 2020;30:313–24. doi: 10.4014/jmb.2003.03011.
Gandhi M, Yokoe DS, Havlir DV. Asymptomatic Transmission, the Achilles' Heel of Current Strategies to Control Covid-19. N Engl J Med. 2020;382:2158–60.
Doshi RK, Patel G, Mackay R, Wallach F. Healthcare-associated Infections: epidemiology, prevention, and therapy. Mt Sinai J Med. 2009;76:84- 94. doi: 10.1002/msj.20070.
S Harbarth, C Ruef, P Francioli, P, Widmer A, Pittet D. Nosocomial infections in Swiss university hospitals: a multi-centre survey and review of the published experience. Swiss-Noso Network. Schweiz Med Wochenschr. 1999;129:1521–8.
Nicastri E, Petrosillo N, Martini L, Larosa M, Gesu GP, Ippolito G; INF-NOS Study Group. Prevalence of nosocomial infections in 15 Italian hospitals: first point prevalance study for the INF-NOS project. Infection. 2003;31 Suppl 2:10-5.
Eriksen HM, Iversen BG, Aavitsland P. Prevalence of nosocomial infections in hospitals in Norway, 2002 and 2003. J Hosp Infect. 2005;60:40–5.
Shuman EK, Chenoweth CE. Urinary Catheter-Associated Infections. Infect Dis Clin N Am. 2018;32:885–97.
Karam G, Chastre J, Wilcox MH, Vincent JL. Antibiotic strategies in the era of multidrug resistance. Crit Care. 2016;20:136. doi: 10.1186/s13054- 016-1320-7
Vestergaard LS, Nielsen J, Richter L, Schmid D, Bustos N, Braeye T, et al; ECDC Public Health Emergency Team for COVID-19, Krause TG, Mølbak K. Excess all-cause mortality during the COVID-19 pandemic in Europe - preliminary pooled estimates from the EuroMOMO network, March to April 2020. Euro Surveill. 2020;25:2001214. doi: 10.2807/1560-7917. ES.2020.25.26.2001214.
Nogueira PJ, De Araújo Nobre M, Nicola PJ, Furtado C, Vaz Carneiro A. Excess Mortality Estimation During the COVID-19 Pandemic: Preliminary Data from Portugal. Acta Med Port. 2020;33:376-83. doi: 10.20344/ amp.13928.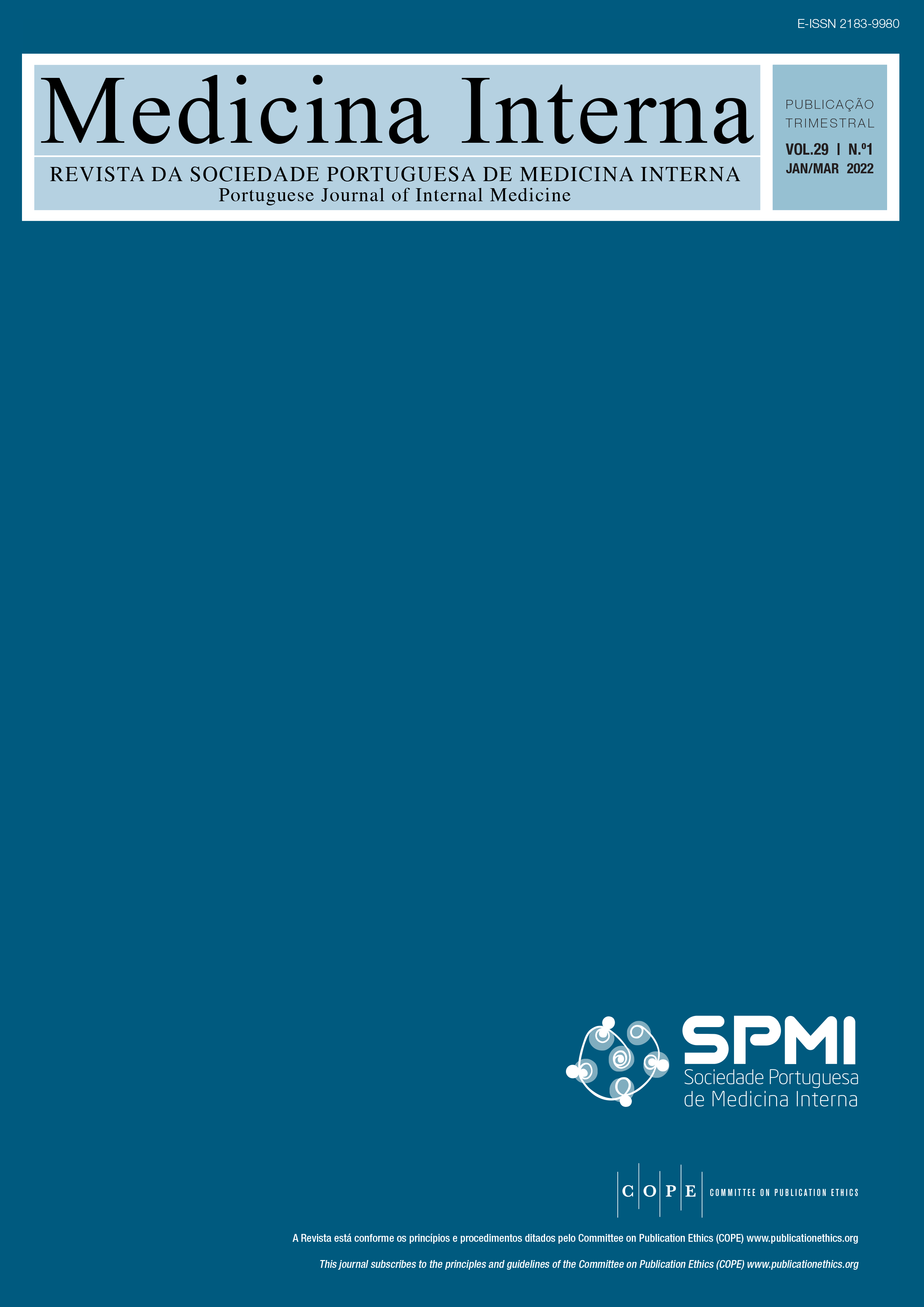 Downloads
Como Citar
1.
Bonito Moreira L, Martins-dos-Santos G, Ilharco M, Mello Vieira M, Midões C, Rocha I, Soares L, Fevereiro M do C. Infeções Nosocomiais. COVID-19: Amigo ou Inimigo?. RPMI [Internet]. 22 de Março de 2022 [citado 2 de Julho de 2022];29(1):19-25. Disponível em: https://revista.spmi.pt/index.php/rpmi/article/view/511
Licença
Este trabalho encontra-se publicado com a Creative Commons Atribuição-NãoComercial 4.0.