Protocolo de Orientação Clínica: Abordagem da Hipocalcemia Pós-Cirúrgica
Palavras-chave:
Complicações Pós-Operatórias, Hipocalcemia/diagnóstico, Hipocalcemia/prevenção e controlo, Hipocalcemia/tratamento, Hipoparatiroidismo/etiologia
Resumo
A regulação do nível de cálcio no sangue é feita através da paratormona (PTH) e da 1,25-dihidroxivitamina D, metabolito ativo da vitamina D. A hipocalcemia pode estar associada a um espectro de manifestações clínicas, variando desde ténues sintomas, a sintomas graves, que podem colocar em risco a vida do doente. A maioria dos casos de hipocalcemia aguda ocorrem no contexto de hipoparatiroidismo após cirurgia cervical, com remoção ou destruição das glândulas paratiroides. Este protocolo tem como objetivo fornecer a informação necessária para auxiliar no diagnóstico, tratamento e prevenção da hipocalcemia em doentes adultos no contexto pós-cirúrgico.
Downloads
Não há dados estatísticos.
Referências
Melmed S, Polonsky K, Larsen P, Kronenberg H. Williams textbook of endocrinology. 13th Amsterdam: Elsevier; 2016.
Gardner D. Greenspan´s Basic and Clinical Endocrinology. 10th ed.. New York: McGraw-Hill Education; 2011.
Gafni RI, Collins MT. Hypoparathyroidism. N Engl J Med. 2019;380:1738-47. doi: 10.1056/NEJMcp1800213.
Khan AA, Koch CA, Van Uum S, Baillargeon JP, Bollerslev J, Brandi ML, et al. Standards of care for hypoparathyroidism in adults: a Canadian and International Consensus. Eur J Endocrinol. 2019;180:P1-P22. doi: 10.1530/EJE-18-0609.
Orloff LA, Wiseman SM, Bernet VJ, Fahey TJ 3rd, Shaha AR, Shindo ML, et al. American Thyroid Association Statement on Postoperative Hypoparathyroidism: Diagnosis, Prevention, and Management in Adults. Thyroid. 2018;28:830-41. doi: 10.1089/thy.2017.0309.
Wilhelm SM, Wang TS, Ruan DT, Lee JA, Asa SL, Duh QY, et al. The American Association of Endocrine Surgeons Guidelines for Definitive Management of Primary Hyperparathyroidism. JAMA Surg. 2016;151:959-68. doi: 10.1001/jamasurg.2016.2310.
Bollerslev J, Rejnmark L, Marcocci C, Shoback DM, Sitges-Serra A, van Biesen W, et al; European Society of Endocrinology. European Society of Endocrinology Clinical Guideline: Treatment of chronic hypoparathyroidism in adults. Eur J Endocrinol. 2015;173:G1-20. doi: 10.1530/EJE-15-0628.
Brandi ML, Bilezikian JP, Shoback D, Bouillon R, Clarke BL, Thakker RV, et al. Management of Hypoparathyroidism: Summary Statement and Guidelines. J Clin Endocrinol Metab. 2016;101:2273-83. doi: 10.1210/jc.2015-3907.
Cooper MS, Gittoes NJ. Diagnosis and management of hypocalcaemia. BMJ. 2008;336:1298-302. doi: 10.1136/bmj.39582.589433.BE. Erratum in: BMJ. 2008;336. doi: 10.1136/bmj.a334.
Favus, M., 2006. Primer on the metabolic bone diseases and disorders of mineral metabolism. Washington: American Society for Bone and Mineral Research
McLeod IK, Arciero C, Noordzij JP, Stojadinovic A, Peoples G, Melder PC, Langley R, Bernet V, Shriver CD. The use of rapid parathyroid hormone assay in predicting postoperative hypocalcemia after total or completion thyroidectomy. Thyroid. 2006;16:259-65. doi: 10.1089/thy.2006.16.259.
Sywak MS, Palazzo FF, Yeh M, Wilkinson M, Snook K, Sidhu SB, Delbridge LW. Parathyroid hormone assay predicts hypocalcaemia after total thyroidectomy. ANZ J Surg. 2007;77:667-70. doi: 10.1111/j.1445-2197.2007.04183.x.
Asari R, Passler C, Kaczirek K, Scheuba C, Niederle B. Hypoparathyroidism after total thyroidectomy: a prospective study. Arch Surg. 2008;143:132-7; discussion 138. doi: 10.1001/archsurg.2007.55.
Roh JL, Park CI. Intraoperative parathyroid hormone assay for management of patients undergoing total thyroidectomy. Head Neck. 2006;28:990-7. doi: 10.1002/hed.20444.
Chia SH, Weisman RA, Tieu D, Kelly C, Dillmann WH, Orloff LA. Prospective study of perioperative factors predicting hypocalcemia after thyroid and parathyroid surgery. Arch Otolaryngol Head Neck Surg. 2006 Jan;132(1):41-5. doi: 10.1001/archotol.132.1.41.
Barczynski M, Cichon S, Konturek A. Which criterion of intraoperative iPTH assay is the most accurate in prediction of true serum calcium levels after thyroid surgery? Langenbecks Arch Surg. 2007;392:693-8. doi: 10.1007/s00423-007-0165-6.
Grodski S, Serpell J. Evidence for the role of perioperative PTH measurement after total thyroidectomy as a predictor of hypocalcemia. World J Surg. 2008;32:1367-73. doi: 10.1007/s00268-008-9545-5.
Toniato A, Boschin IM, Piotto A, Pelizzo M, Sartori P. Thyroidectomy and parathyroid hormone: tracing hypocalcemia-prone patients. Am J Surg. 2008;196:285-8. doi: 10.1016/j.amjsurg.2007.06.036.
Youngwirth L, Benavidez J, Sippel R, Chen H. Parathyroid hormone deficiency after total thyroidectomy: incidence and time. J Surg Res. 2010;163:69-71. doi: 10.1016/j.jss.2010.03.059.
Rutledge J, Siegel E, Belcher R, Bodenner D, Stack BC Jr. Barriers to same-day discharge of patients undergoing total and completion
thyroidectomy. Otolaryngol Head Neck Surg. 2014;150:770-4. doi: 10.1177/0194599814521568.
Selberherr A, Scheuba C, Riss P, Niederle B. Postoperative hypoparathyroidism after thyroidectomy: efficient and cost-effective diagnosis and treatment. Surgery. 2015;157:349-53. doi: 10.1016/j.surg.2014.09.007.
Neumar RW, Otto CW, Link MS, Kronick SL, Shuster M, Callaway CW, et al. Part 8: adult advanced cardiovascular life support: 2010 American Heart Association Guidelines for Cardiopulmonary Resuscitation and Emergency Cardiovascular Care. Circulation. 2010;122:S729-67. doi: 10.1161/CIRCULATIONAHA.110.970988. Erratum in: Circulation. 2011;123:e236. rratum in: Circulation. 2013;128:e480.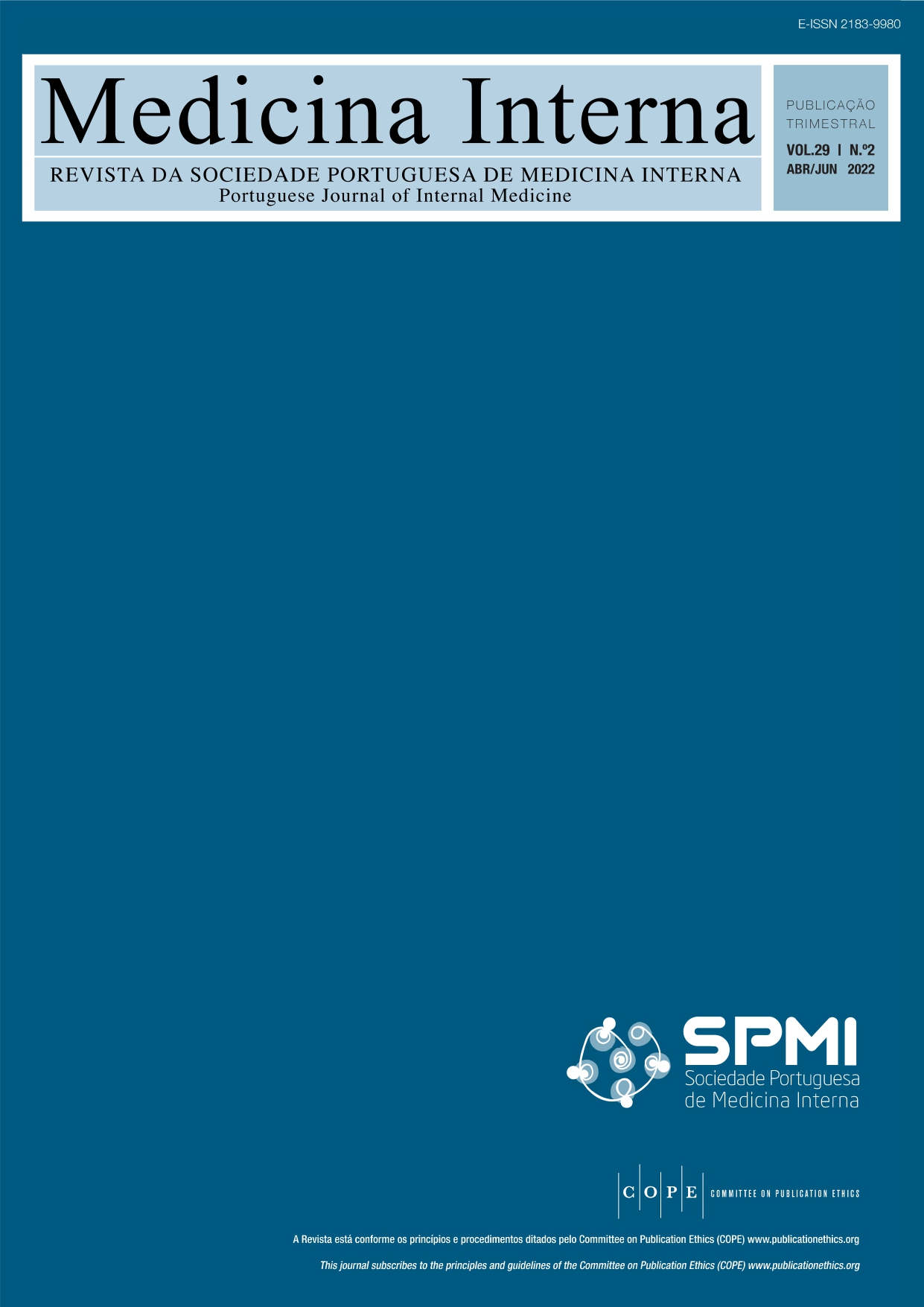 Downloads
Como Citar
1.
Chaves C, Martinho M, Cunha F, Garrido S, Vieira M, Almeida M. Protocolo de Orientação Clínica: Abordagem da Hipocalcemia Pós-Cirúrgica. RPMI [Internet]. 23 de Junho de 2022 [citado 3 de Junho de 2023];29(2):165-70. Disponível em: https://revista.spmi.pt/index.php/rpmi/article/view/652
Licença
Este trabalho encontra-se publicado com a Creative Commons Atribuição-NãoComercial 4.0.