Doença Celíaca no Idoso
Palavras-chave:
Doença Celíaca, Idoso
Resumo
A doença celíaca é um distúrbio crónico e autoimune que pode surgir em qualquer idade. Atualmente, um quarto dos novos diagnósticos ocorre depois dos 60 anos de idade. A apresentação clínica subtil com défices de micronutrientes e osteopenia ou osteoporose, associada à subvalorização médica desta hipótese, leva ao seu subdiagnóstico neste grupo etário. A doença celíaca na idade avançada pode ter maior risco de associação a doenças autoimunes, linfoproliferativas e cardiovasculares, com impacto na morbimortalidade. A adesão à dieta sem glúten não parece ser problemática e a qualidade de vida aparenta não diminuir. É essencial um seguimento multidisciplinar adaptado ao doente. Nesta revisão, sistematiza-se a evidência atual da doença celíaca no idoso incluindo epidemiologia, fisiopatologia, manifestações clínicas, diagnóstico e abordagem terapêutica, com o objetivo de consciencializar e reduzir o atraso no seu diagnóstico.
Downloads
Não há dados estatísticos.
Referências
Ludvigsson JF, Leffler DA, Bai JC, Biagi F, Fasano A, Green PHR, et al. The Oslo definitions for coeliac disease and related terms. Gut. 2013;62:43–52.
Shiha MG, Marks LJ, Sanders DS. Diagnosing coeliac disease in the elderly: A United Kingdom cohort study. Gastroenterol Hepatol Bed Bench. 2020;13:37–43.
Collin P, Vilppula A, Luostarinen L, Holmes GKT, Kaukinen K. Review article: coeliac disease in later life must not be missed. Aliment Pharmacol Ther. 2018;47:563-72. doi: 10.1111/apt.14490.
Singh P, Arora A, Strand TA, Leffler DA, Catassi C, Green PH, et al. Global Prevalence of Celiac Disease: Systematic Review and Meta-analysis. Clin Gastroenterol Hepatol. 2018;16:823-36.e2.
Cappello M, Morreale GC, Licata A. Elderly onset celiac disease: A narrative review. Clin Med Insights Gastroenterol. 2016;9:41-9. doi: 10.4137/CGast.S38454.
Tortora R, Zingone F, Rispo A, Bucci C, Capone P, Imperatore N, et al. Coeliac disease in the elderly in a tertiary centre. Scand J Gastroenterol. 2016;51:1179–83.
Holt PR. Intestinal malabsorption in the elderly. Dig Dis. 2007;25:144–50.
Ludvigsson JF, Rubio-Tapia A, Van Dyke CT, Melton LJ, Zinsmeister AR, Lahr BD, et al. Increasing incidence of celiac disease in a north American Population. Am J Gastroenterol. 2013;108:818–24.
Holmes GKT, Muirhead A. Epidemiology of coeliac disease in a single centre in Southern Derbyshire 1958-2014. BMJ Open Gastroenterol. 2017;4:e000137. doi: 10.1136/bmjgast-2017-000137.
Casella S, Zanini B, Lanzarotto F, Villanacci V, Ricci C, Lanzini A. Celiac disease in elderly adults: Clinical, serological, and histological characteristics and the effect of a gluten-free diet. J Am Geriatr Soc. 2012;60:1064–9.
West J, Fleming KM, Tata LJ, Card TR, Crooks CJ. Incidence and prevalence of celiac disease and dermatitis herpetiformis in the UK over two decades: Population-based study. Am J Gastroenterol. 2014;109:757–68.
Bai JC, Ciacci C, Melberg J. World Gastroenterology Organisation Global Guidelines: Celiac Disease February 2017. J Clin Gastroenterol. 2017;51:755–68.
Denham JM, Hill ID. Celiac disease and autoimmunity: Review and controversies. Curr Allergy Asthma Rep. 2013;13:347–53.
Green PH, Lebwohl B, Greywoode R. Celiac disease. J Allergy Clin Immunol. 2015;135:1099-106; quiz 1107. doi: 10.1016/j.jaci.2015.01.044.
Stamnaes J, Sollid L. Celiac disease: Autoimmunity in response to food antigen. Semin Immunol. 2015;27:343-52. doi: 10.1016/j.smim.2015.11.001.
Al-Toma A, Volta U, Auricchio R, Castillejo G, Sanders DS, Cellier C, et al. European Society for the Study of Coeliac Disease (ESsCD) guideline for coeliac disease and other gluten-related disorders. United European Gastroenterol J. 2019;7:583-613. doi: 10.1177/2050640619844125.
Lebwohl B, Ludvigsson J, Green P. The Unfolding Story of Celiac Disease Risk Factors. 2011;12:632-35. doi: 10.1016/j.cgh.2013.10.031
Nistal E, Caminero A, Vivas S, Ruiz de Morales JM, Sáenz de Miera LE, Rodríguez-Aparicio LB, et al. Differences in faecal bacteria populations and faecal bacteria metabolism in healthy adults and celiac disease patients. Biochimie. 2012;94:1724–9.
Oxentenko AS, Rubio-Tapia A. Celiac Disease. Mayo Clin Proc. 2019;94:2556–71.
Johnson MW, Ellis HJ, Asante MA, Ciclitira PJ. Celiac disease in the elderly. Vol. 5, Nature Clinical Practice Gastroenterology and Hepatology. Nat Clin Pract Gastroenterol Hepatol; 2008. 697–706.
Freeman HJ. Adult celiac disease in the elderly. World J Gastroenterol. 2008;14:6911–4.
Baghbanian M, Farahat A, Vahedian HA, Sheyda E, Zare-Khormizi MR. A prevalência da doença celíaca em pacientes com anemia por deficiência de ferro no Centro e zona Sul do Irã. Arq Gastroenterol. 2015;52:278–82.
Harper JW, Holleran SF, Ramakrishnan R, Bhagat G, Green PH. Anemia in celiac disease is multifactorial in etiology. Am J Hematol. 2007;82:996–1000.
Rashtak S, Murray J. Celiac Disease in the Elderly. Gastroenterol Clin North Am. 2009; 38:443-46. doi: 10.1016/j.gtc.2009.06.005.
Phan CM, Guglielmi G. Metabolic Bone Disease in Patients with Malabsorption. Semin Musculoskelet Radiol. 2016;20:369–75.
Zanchetta MB, Longobardi V, Bai JC. Bone and Celiac Disease. Curr Osteoporos Rep. 2016;14:43–8.
Heikkilä K, Pearce J, Mäki M, Kaukinen K. Celiac disease and bone fractures: A systematic review and meta-analysis. JCEM. 2015;100:25-34. doi:
1210/jc.2014-1858
Sánchez MIP, Mohaidle A, Baistrocchi A, Matoso D, Vázquez H, González A, et al. Risk of fracture in celiac disease: Gender, dietary compliance, or both? World J Gastroenterol. 2011;17:3035–42.
Vilppula A, Kaukinen K, Luostarinen L, Krekelä I, Patrikainen H, Valve R, et al. Clinical benefit of gluten-free diet in screen-detected older celiac disease patients. BMC Gastroenterol. 2011;11.
Kalkan Ç, Karakaya F, Soykan I. Similarities and differences between older and young adult patients with celiac disease. Geriatr Gerontol Int.
;17:2060–7.
Mukherjee R, Egbuna I, Brar P, Hernandez L, McMahon DJ, Shane EJ, et al. Celiac disease: Similar presentations in the elderly and young adults. Dig Dis Sci. 2010;55:3147–53.
Salmi T. Dermatitis herpetiformis: Clinical and Experimental Dermatology. 2019;7: 728–31. doi: 10.1111/ced.13992
Collin P, Salmi T, Hervonen K, Kaukinen K, Reunala T. Dermatitis herpetiformis: a cutaneous manifestation of coeliac disease. Ann Med. 2017;49:23-31. doi: 10.1080/07853890.2016.1222450
Campagna G, Pesce M, Tatangelo R, Rizzuto A, La Fratta I, Grilli A. The progression of coeliac disease: Its neurological and psychiatric implications. Nutr Res Rev. 2017;30:25–35.
Hadjivassiliou M, Sanders DS, Grünewald RA, Woodroofe N, Boscolo S, Aeschlimann D. Gluten sensitivity: from gut to brain. Lancet Neurol.
;9:318–30.
Lebwohl B, Luchsinger JA, Freedberg DE, Green PHR, Ludvigsson JF. Risk of Dementia in Patients with Celiac Disease: A Population-Based Cohort Study. J Alzheimer Dis. 2015;49:179–85.
Lurie Y, Landau DA, Pfeffer J, Oren R. Celiac disease diagnosed in the elderly. J Clin Gastroenterol. 2008;42:59–61.
Casella S, Zanini B, Lanzarotto F, Ricci C, Marengoni A, Romanelli G, et al. Cognitive performance is impaired in coeliac patients on gluten free diet: A case-control study in patients older than 65 years of age. Dig Liver Dis. 2012;44:729–35.
Nikpour S. Neurological manifestations, diagnosis, and treatment of celiac disease: A comprehensive review. Iran J Neurol. 2012;11:59–64.
Gajulapalli RD, Pattanshetty D. Coronary artery disease prevalence is higher among celiac diseases patients. J Am Coll Cardiol. 2014;63:A115.
Ludvigsson JF, James S, Askling J, Stenestrand U, Ingelsson E. Nationwide cohort study of risk of ischemic heart disease in patients with celiac
disease. Circulation. 2011;123:483–90.
Emilsson L, Lebwohl B, Sundström J, Ludvigsson JF. Cardiovascular disease in patients with coeliac disease: A systematic review and meta-
-analysis. Dig Liver Dis. 2015;47847–52.
Biagi F, Schiepatti A, Maiorano G, Fraternale G, Agazzi S, Zingone F, et al. Risk of complications in coeliac patients depends on age at diagnosis and type of clinical presentation. Dig Liver Dis. 2018;50:549–52.
Biagi F, Gobbi P, Marchese A, Borsotti E, Zingone F, Ciacci C, et al. Low incidence but poor prognosis of complicated coeliac disease: A retrospective multicentre study. Dig Liver Dis. 2014;46:227–30.
Ludvigsson JF, Bai JC, Biagi F. Diagnosis and management of adult coeliac disease: guidelines from the British Society of Gastroenterology. Gut. 2014;63:1210–28.
Rubio-Tapia A, Hill ID, Kelly CP, Calderwood AH, Murray JA. ACG Clinical Guidelines: Diagnosis and Management of Celiac Disease. Am J Gastroenterol. 2013;108:656–76.
Hujoel IA, Reilly NR, Rubio-Tapia A. Celiac Disease: Clinical Features and Diagnosis. Gastroenterol Clin North Am. 2019;48:19–37.
See J, Kaukinen K, Makharia G, Gibson P, Murray J. Practical insights into gluten-free diets. Vol. 12, Nat Rev Gastroenterol Hepatol.; 2015;12:
–91. doi: 10.1038/nrgastro.2015.156.
Hughey JJ, Ray BK, Lee AR, Voorhees KN, Kelly CP, Schuppan D. Self-reported dietary adherence, disease-specific symptoms, and quality of
life are associated with healthcare provider follow-up in celiac disease. BMC Gastroenterol. 2017;17:156. doi: 10.1186/s12876-017-0713-7.
Villafuerte-Galvez J, Vanga RR, Dennis M, Hansen J, Leffler DA, Kelly CP, et al. Factors governing long-term adherence to a gluten-free diet in adult patients with coeliac disease. Aliment Pharmacol Ther. 2015;42:753–60.
Sugai E, Nachman F, Váquez H, González A, Andrenacci P, Czech A, et al. Dynamics of celiac disease-specific serology after initiation of a gluten-free diet and use in the assessment of compliance with treatment. Dig Liver Dis. 2010;42:352–8.
Mahadev S, Murray JA, Wu T-T, Chandan VS, Torbenson MS, Kelly CP, et al. Factors associated with villus atrophy in symptomatic coeliac disease patients on a gluten-free diet. Aliment Pharmacol Ther. 2017;45:1084–93.
Duerksen D, Sanchez M, Anca A, Schnetzler J, Case S, Zelin J, et al. Management of bone health in patients with celiac disease: Can Fam Physician. 2018; 64:433-38.
Lebwohl B, Granath F, Ekbom A, Montgomery SM, Murray JA, Rubio-Tapia A, et al. Mucosal healing and mortality in coeliac disease. Aliment
Pharmacol Ther. 2013;37:332–9.
Olén O, Askling J, Ludvigsson JF, Hildebrand H, Ekbom A, Smedby KE. Coeliac disease characteristics, compliance to a gluten free diet and risk
of lymphoma by subtype. Dig Liver Dis. 2011;43:862–8.
Ukkola A, Mäki M, Kurppa K, Collin P, Huhtala H, Kekkonen L, et al. Changes in body mass index on a gluten-free diet in coeliac disease: A nationwide study. Eur J Intern Med. 2012;23:384–8.
Stasi E, Marafini I, Caruso R, Soderino F, Angelucci E, Del Vecchio Blanco G, et al. Frequency and cause of persistent symptoms in celiac disease patients on a long-term gluten-free diet. J Clin Gastroenterol. 2016;50:239–43.
Cunha M, Carneiro F, Amil J. Doença celíaca refratária. Arq Med. 2013;27:19–26.
Malamut G, Afchain P, Verkarre V, Lecomte T, Amiot A, Damotte D, et al. Presentation and Long-Term Follow-up of Refractory Celiac Disease:
Comparison of Type I With Type II. Gastroenterology. 2009;136:81–90.
Mukewar SS, Sharma A, Rubio-Tapia A, Wu T-T, Jabri B, Murray JA. Open-Capsule Budesonide for Refractory Celiac Disease. Am J Gastroenterol. 2017;112:959–67.
Rishi AR, Rubio-Tapia A, Murray JA. Refractory celiac disease. Expert Rev Gastroenterol Hepatol. 2016;10:537–46.
Freeman HJ. Evaluation of non-dietary alternatives for treatment of adults with celiac disease. Front Nutr. 2020;7:562503. doi: 10.3389/
fnut.2020.562503.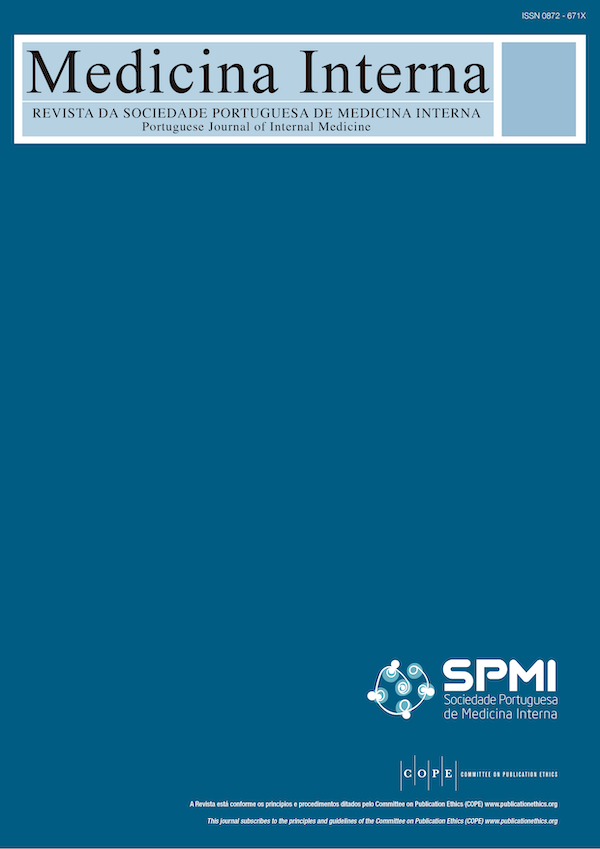 Downloads
Como Citar
1.
Rato B, Teixeira Veríssimo M. Doença Celíaca no Idoso. RPMI [Internet]. 18 de Junho de 2021 [citado 29 de Setembro de 2023];28(2):175-83. Disponível em: https://revista.spmi.pt/index.php/rpmi/article/view/64
Secção
Artigos de Revisão
Licença
Este trabalho encontra-se publicado com a Licença Internacional Creative Commons Atribuição 4.0.
Direitos de Autor (c) 2023 Medicina Interna
Acesso livre